Already providing road and transport authorities in Australia and New Zealand with unrivalled real-time traffic information, Addinsight exhibited its industry-leading software to the world at the ITS World Congress in Los Angeles.
Addinsight joined ITS Australia's stand in exhibiting at the Los Angeles Convention Centre in the 28th annual meeting of ITS industry leaders worldwide, providing live demonstrations of the software to more than 50 representatives from around the world, and illustrating how the technology can benefit Traffic Management Centres (TMCs) regardless of geographical location.
Paul Glover, Addinsight's Global Lead, says that the software addresses a significant need currently not readily available in the global market.
"Addinsight provides real-world data into the transport planning process and focuses on giving real-time information to people that operate transport networks, enabling them to investigate and make decisions to improve traffic flow on the road network," he says.
A snapshot of Addinsight's congestion management capability.
"Available systems on the market provide users with congestion data, regardless of the time of day or day of the week – which may be normal congestion seen every day at a particular location.
"The Addinsight system filters out recurring congestion, providing abnormal congestion indications and real-time travel information so the operators and people in TMCs know there is something to investigate."
Awarded a grant by the South Australian Government Department for Trade and Investment as part of their Global Expansion Program (GEP), Addinsight will continue exploring opportunities to expand into the global market at events such as the ITS World Congress.
Head of Addinsight Damian Hewitt says that the software has plenty to offer on a global scale.
"The transport challenges that Addinsight is already helping solve in Australia and New Zealand can be applied anywhere in the world, and what's perhaps most exciting is that we are just scratching the surface of the software's capabilities," he says.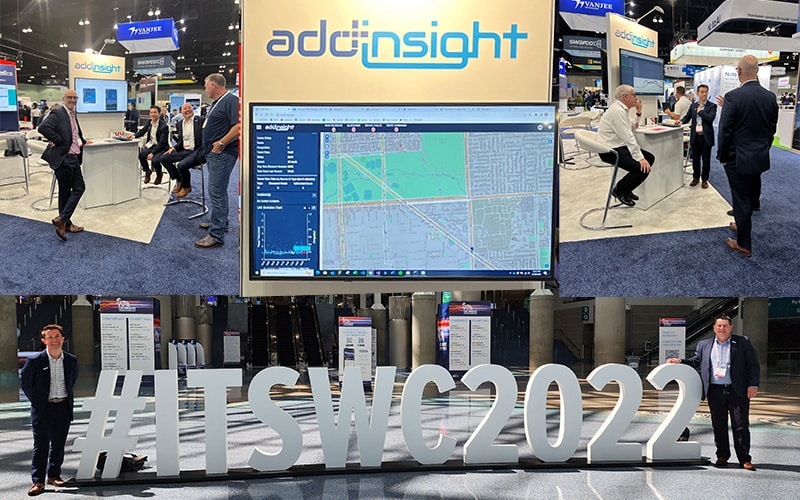 Addinsight's Paul Glover (pictured top left, third from left), Damian Hewitt (bottom right), and James Cox (bottom left) attended ITSWC2022, along with Paul Markwick (top left) from parent company SAGE Group.
"As Addinsight's network expands to more geographical locations, the opportunities for our clients to unlock unprecedented performance management and Business Intelligence analytics scales in uniform.
"Addinsight will only benefit from gaining greater exposure in the global market, as we uncover exciting new use cases and continue to develop the software to best serve our valued customers."
To see a live demonstration of Addinsight, you can request a demo online.