Addinsight joined fellow Australian transport innovators in exploring safe, sustainable, accessible transport at ITS Australia Summit 2022 in Brisbane this August.
Summit 2022 brings industry leaders together to demonstrate and share new insights and initiatives that will determine our path toward an accessible and automated future transport network.
The Addinsight team exhibited at this year's event, demonstrating the software's capabilities and how it uses an extensive network of IoT and ITS connectivity to provide real-time traffic movement and performance management data.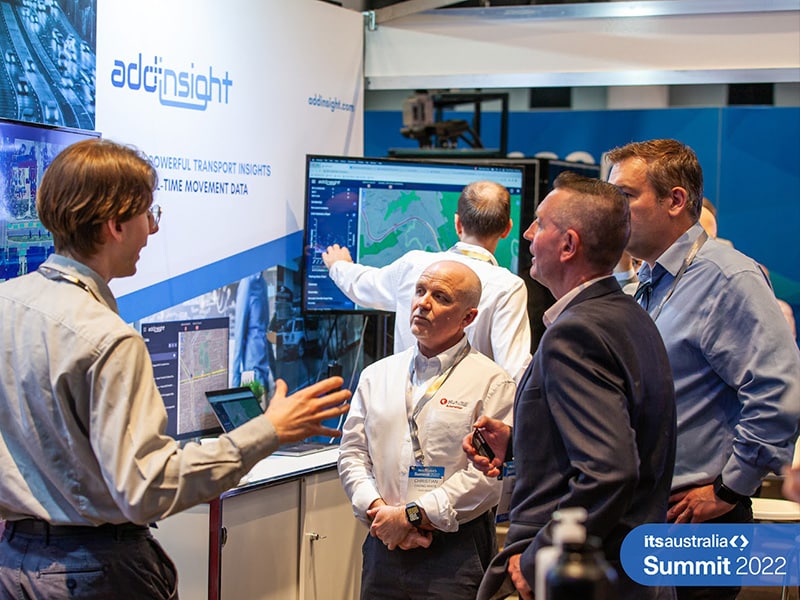 The Addinsight stand at Summit 2022. Photo courtesy of ITS Australia.
Intelligent Transport Systems (ITS) utilise advanced information and communications technologies (ICT) to collect information on road and mobility conditions.
Addinsight is an ITS solution and the software is often adopted as part of wider ITS projects to support traffic system managers, planners and road users to make data-driven decisions to improve road safety, reduce congestion, and promote sustainability.
Used by every state road authority in Australia and various locations in New Zealand, Addinsight's network continues to grow and is expanding into more countries, while the platform is also on an ongoing journey of development to meet tomorrow's transport needs.
In the past 12 months, Addinsight has been working on further developing the industry-leading software to provide an even better user experience for its customers and their needs.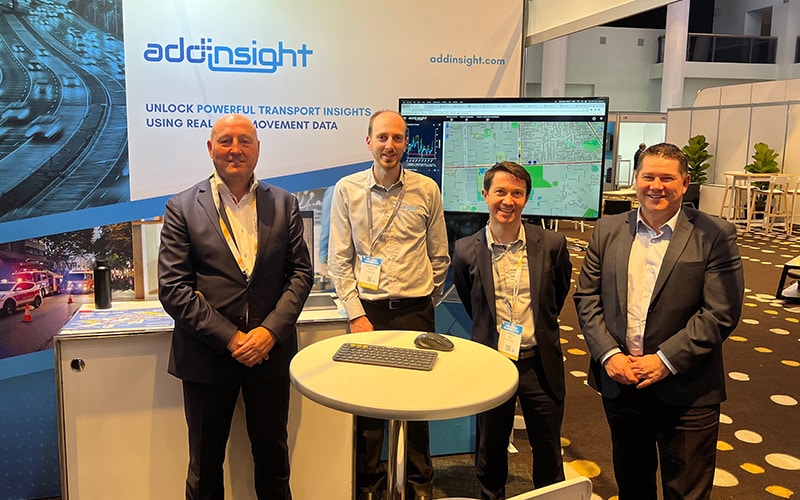 The Addinsight team (from left): Paul Glover, Jonathon Rossi, James Cox, and Damian Hewitt.
Learning more about the needs of current and future mobility challenges at events such as this is critical, says Addinsight Global Lead Paul Glover.
"We frequently engage with our customers (road authorities, local governments and private sector) to gain feedback on how we can deliver the ultimate user experience," he says.
"Ensuring our customer (the end-user) is front-of-mind is paramount in ensuring Addinsight delivers excellent results for our clients.
"Being in-person at an event like Summit 2022 is a great way to learn more about the most critical needs facing the industry and current trends and developments."
Addinsight already provides essential solutions to the transport industry's greatest challenges, including incident detection and congestion management, transport planning and traffic modelling, and incident alerts.
One of the key objectives in the ongoing development of the platform is to create digitally connected road networks to reduce congestion and improve road safety, using new data sources.
Addinsight is proud to have been involved in Summit 2022 and looks forward to attending the ITS World Congress in Los Angeles in September.

If you missed the live demonstration of Addinsight, request a demo online today!